Datacom Systems VERSAstream™ 1124 Network Packet Broker

24 Port Any-to-Any Switch with Load Balancing and Packet Filtering

Sorry, this product is no longer available, please contact us for a replacement.
Click here to jump to more pricing!
Data Capture Infrastructure Optimizes Network Monitoring and Increases Efficiency
Networks are growing more complex, carrying more services, higher volumes of multiprotocol network traffic, and requiring greater bandwidth. At the same time, network and security personnel are required to monitor and analyze more links in greater detail throughout the network in order to meet application performance demands, minimize security threats, and meet regulatory compliance. Higher speed networks are being deployed, fueling the need for higher speed monitoring tools.
Datacom Systems helps solve many of today's most pressing tool deployment problems by allowing organizations to conveniently connect 10G and 1G test and monitoring tools to any traffic on the network.
Load Balancing
Balance traffic across multiple ports to allow growth as the volume of data increases. Load balancing helps prevent loss of data by enabling deployment of redundant security tools that can back each other up, in the event of failure or during while their software updates. As links get faster, you need to be able to distribute traffic across lower speed analysis tools. Load balancing allows you to extend the life of existing lower speed devices as your network traffic increases.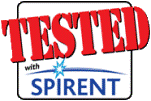 Features and Benefits:
Benefits:
Consolidate monitoring tools to reduce management expenses and lower tool costs
Single point of deployment and remote management minimizes management expenses and reduces MTTR
Monitor 10G links with 1G tools for increased ROI and more efficient use of monitoring resources
Easily share scarce SPAN ports and test access points without maintenance windows
Receives traffic from external taps or SPAN ports to allow you to deploy tools right away without impacting your production network, which simplifies the change control process.
Features:
Load Balancing - Balance sessions across multiple outputs for monitoring redundancy
240 Gbps backplane
All ports active with full features- no per port licensing. Input from passive TAPs or SPANs.
Filtering - Line-rate hardware-based filtering can eliminate port oversubscription.
Filter on IPv4 Src/Dst Address, MAC Address, Protocol, Port, Ethertypes i.e. MPLS, VLAN, IPv6 Src/Dst Address
Aggregation/Regeneration - Combine multiple network links or channels into one stream or send copies to multiple connected tools to share data sources
Media Conversion - Leverage existing monitoring tools regardless of media type
Manage device remotely or locally with Web-based management (HTTPs) or extensive CLI (telnet/SSH)
SNMP v2c, v3c
RADIUS, TACACS+
Solutions:
Data Filtering

Instead of tools attempting to keep up with high-speed aggregates traffic streams, the VERSAstream can apply packet filters to the data to increase tool efficiency and eliminate port oversubscription. Line-rate hardware filtering on each port allows you to customize and streamline the amount and type of data each connected monitoring tool receives. Because they are receiving only traffic of interest, tools run faster, data is more manageable, and issues are resolved quicker. Command line filtering uses WiresharkTM based syntax.

Aggregation (Many-to-Any)

Many-to-Any monitoring access aggregates network traffic and provides visibility for one or more monitoring tools. Aggregate and reassemble full duplex conversations from one or more trunked links. Perfect for tools that don't support multiple monitoring interfaces or for redundant networks, EtherChannel, load balanced servers, and asymmetrically routed traffic.

Regeneration (Any-to-Many)

Any-to-Many configurations replicate copies of identical network traffic to provide multiple tools with monitoring access to the same links. In addition to eliminating contention for scarce SPAN ports and test access points, multiple tools can be connected to the same link for redundancy, testing, or advanced monitoring applications.

Port Steering (Any-to-Any)

Any of the ports can be confi gured as input (network) or output (monitoring) ports on the fly through an easy to use command line interface (CLI) or Webbased management.
Diagrams: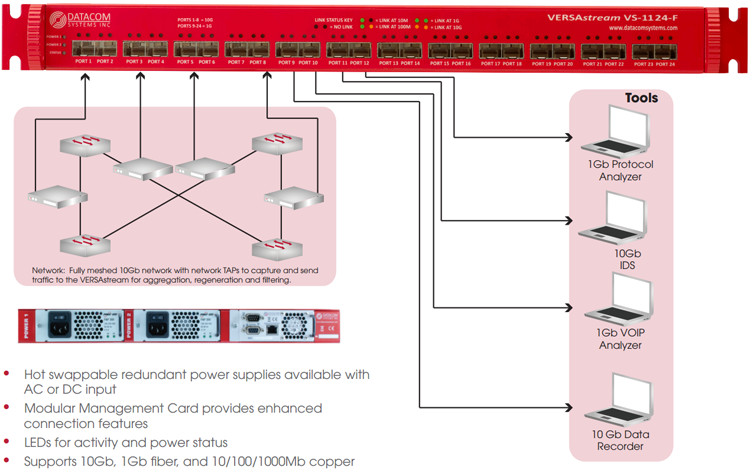 Technical Specifications:
Model
VS-1124-F
Any-to-Any Ports
16 1Gb Ports and 8 10 Gb Ports
(Supports SFP+ SR, LR, LRM, SFP SX, LX, BT)
Management Port
RJ45
Control Port
DB9
Power

Dual Redundant Hot Swappable Power Supplies (Included)
Maximum Power Consumption: Less than 200 Watts
Individual Power Supply Rating: 100-240V ~47-63Hz 4A MAX.

Filtering

IPv4 Address Sources and Destinations, Subnet
MAC Address Sources and Destinations
Ports
Ethertype
VLAN
IPv6 Address Sources and Destinations, Subnets

Dimensions (H x W x D)
1.72 x 19.00 x 21.00 in (4.37 x 48.26 x 53.34 cm)
Weight
18.15 lbs (8.23 kgs)
Operating Temperature
: 32º to 104ºF (0º to 40ºC)
Storage Temperature
-22° to 149°F (-30° to 65°C)
Humidity
5 to 90% non-condensing
Warranty
One (1) Year Hardware Warranty included. Advanced Replacement-Next Day, third business day options available
Optional Equipment
SFP+-SR/SX
SFP+-LR/LX
SFP-SX
SFP-LX
SFP-RJ45
Pricing and product availability subject to change without notice.